Epilepsy woman gets degree despite major brain surgery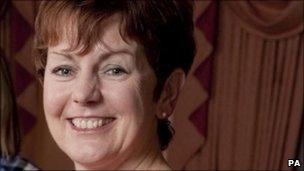 A woman who had part of her brain removed five years ago in a high-risk operation to beat epilepsy will graduate from the University of Derby.
Helen Hollis, 47, and from Nottinghamshire, is celebrating finally getting her degree, eight years after she started her studies.
The mother-of-two had part of her right temporal lobe removed five years ago after suffering 40 seizures a month.
She achieved a first class BSc (Hons) in psychology and counselling studies.
Mrs Hollis will graduate at a ceremony at the University of Derby on Saturday.
Mrs Hollis, from Teversal, near Sutton-in-Ashfield, said: "It will be without doubt one of the proudest moments of my life and I was determined never to give up and give in to epilepsy."
She worked as a staff nurse in the renal unit at Nottingham City Hospital from 1990 to 2000 after qualifying as a nurse in the late 1980s.
Since the early 1980s Mrs Hollis suffered headaches and epilepsy attacks, but managed them with early warning signs and symptoms and going to the rest room to recover.
But after becoming a staff nurse in the intensive care unit at King's Mill Hospital, her attacks got more severe and in 2002 she was advised to give up work amid concerns she would have an attack in the intensive care ward.
She said: "I was devastated to have to give up the job I loved as I just wanted to support and care for people; me and my colleagues really did make a difference."
Mrs Hollis then enrolled on a degree part-time at the university to pursue her "dream job" as a counsellor.
But by 2005 the 47-year-old was experiencing 40 epileptic seizures a month and was advised to have risky brain surgery.
Surgeons removed part of her right temporal lobe - the source of the epilepsy -an area of the brain which encodes new information and is vital for memory.
The surgery at the National Hospital for Neurology and Neurosurgery (NHNN) in London was a success and a few months later she returned to her studies.
She is also due to be presented with a special award, The McGraw-Hill Prize for Success under Difficult Circumstances.
Related Internet Links
The BBC is not responsible for the content of external sites.