Great Western Ambulance Service staff to 'start action'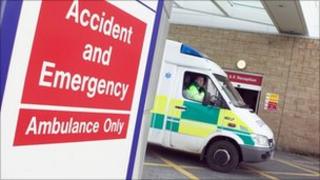 Great Western Ambulance Service staff in Bristol, Wiltshire, Gloucestershire and parts of Somerset say they will begin industrial action on Thursday.
A Unison spokesman said members would begin working to rule next week in a row over pay and conditions.
He said the door was always open for further talks if the ambulance service trust wanted to engage in them.
An ambulance service spokesman said the announcement was "extremely disappointing".
He said the trust would continue to provide "a safe and effective 999 service" despite the industrial action.
The union claimed some workers could face pay cuts, while non-peak cover could be "slimmed down" in areas such as Bristol, Gloucester, Bath and Trowbridge.
'Lives at risk'
Dan Tucker, a paramedic and Unison joint branch secretary, said: "We gave the trust the opportunity of putting a package together, but their offer falls far short of reassuring staff that the new system could ever deliver high standards.
"The trust's proposals and enforced changes will continue to leave lives at risk, which is something our members are telling us they're not prepared to accept."
David Whiting, chief executive of Great Western Ambulance Service, said it had spent the last six months consulting with staff and meeting union representatives.
He said: "From the outset, we have wanted to involve Unison and, indeed, all our staff, in introducing the necessary changes to further improve the care we provide to our patients.
"The changes we are making are about saving more lives. To do that, we need to ensure we have the trained staff and vehicles available when and where our patients need us.
"I also believe the changes are better for our staff."