Festive breath test arrests rise in County Durham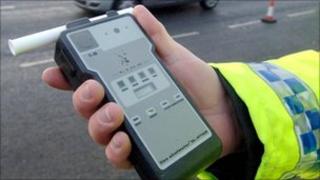 There was a rise in the number of motorists arrested for drinking and driving over the festive period in County Durham, figures show.
Durham Police carried out 1,799 breath tests between 1 December and 31 December, of which 52 were positive.
During the same period in 2009, 41 of 1,433 tests proved to be positive.
Insp Ken Cook, from the force's strategic roads policing unit, said it was "disappointing" that some drivers failed to heed warnings.
The figures also showed a significant increase in road accidents during December, which Mr Cook said was mainly due to severe weather.
During the month there were 336 reported collisions - up from 308 in the previous December. Only one resulted in a fatality.
Mr Cook said: "We committed resources to conduct 37% more breath tests during the campaign, which reflects the high priority we give to this issue.
"I have no doubt that our efforts contributed to the fact that we have had only one fatal road traffic accident across the force area since early November. This is despite the sustained severe weather we experienced last month.
"As always, the Christmas drink-drive campaign was well-publicised, but yet again some motorists failed to heed the warnings.
"Driving under the influence of alcohol remains a major cause of collisions on our roads, and we will be running similar campaigns throughout this year."