Great Western Ambulance staff call off work-to-rule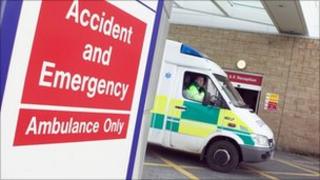 Great Western Ambulance Service (GWAS) staff in Bristol, Wiltshire, parts of Somerset and Gloucestershire, have called off planned industrial action.
Unison members had been due to begin working to rule on Thursday in a row over pay and conditions.
The two sides met in Bristol with conciliation service Acas where Unison described the talks as "constructive" and "quite productive".
Unions and management are due to meet again on Monday.
'Problems identified'
Unison claimed some workers could face pay cuts, while non-peak cover could be "slimmed down" as part of management plans.
GWAS said the changes were about saving more lives and having staff and vehicles available when they were needed by patients.
Paramedic and Unison rep Chris Hewitt said no-one wanted strike action.
"That's very much in the hands of GWAS management," he said.
"There are resolutions for all the problems we have identified and we need to work together to get that sorted.
"There is a lot of work to be done and very important welfare and safety issues for patients and staff we've flagged up.
"What we want is a very clear commitment from the trust so we can build a really good ambulance service with quality care."
In a statement GWAS said it had been using the negotiations "to discuss the package of proposals we presented to the union last week with a view to reaching an amicable agreement.
"We are keen to avoid industrial action and committed to finding an amicable alternative to Unison's dispute, for the benefit of our staff and the patients we serve."