Teenagers' poem to aid domestic abuse Facebook campaign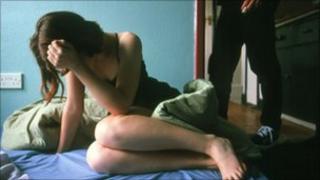 Poetry written by teenagers is to be used to support a police campaign against domestic abuse.
Devon and Cornwall Police's Is this love? campaign on Facebook aims to combat physical violence between young people.
The first line suggested by the force is: "It is known as the silent crime".
Facebook users have been asked to contribute a new line each day about domestic abuse and the full poem will be published on Valentine's Day.
An NSPCC study on teenage relationships in 2009 showed 25% of girls and 18% of boys reported some form of physical violence.
'Perfect mark'
The aim of the police campaign was to encourage debates among young people about the difference between acceptable and unacceptable behaviour in a relationship.
Det Supt John Clements said the force wanted to encourage as many people as possible to interact with the Facebook page.
"Creating a poem which will be published for Valentine's Day is a perfect way and very appropriate to mark the day," he said.
"Using Facebook is helping us reach a young audience and inform them about what is good and bad in relationships, as well as give them information about help and support available."