Major safety improvements at Donington Park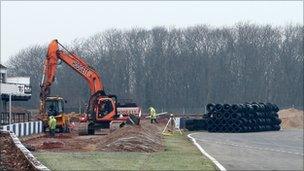 Major improvements have been carried out at Donington Park to ensure the circuit meets safety requirements for the World Superbike Championship.
Racing has recently returned the East Midlands track following 2009's failed bid to host Formula One, which saw the venue lose its licence.
As part of a £1m investment, run-off areas and drainage have been improved.
An inspection of the track will take place later this month ahead of the start of the championship on 25 March.
Run-off areas at the Old Hairpin and Redgate - the circuit's famous first turn - have been extended, and the Redgate Lodge and Pub has also been dismantled.
The popular lodge has been placed in storage in the hope it can be rebuilt elsewhere at Donington.
Kevin Wheatcroft, chairman of Donington Park Racing Ltd, said: "It was with mixed feelings that we removed Redgate Lodge, but it was necessary for safety reasons and I can assure fans that it was dismantled very carefully because I would like to see it resurrected somewhere else on site in the future."
The safety improvements have received the "initial nod" from the FIM (Fédération Internationale de Motocyclisme), said a Donington Park spokesman.
Related Internet Links
The BBC is not responsible for the content of external sites.