Reggie Kray's letters and art sold for £1,360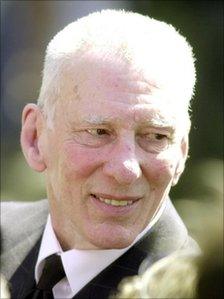 The woman credited with helping killer Reggie Kray become a born-again Christian has auctioned letters and artwork he gave to her.
Carol-Ann Kelly became friends with the East End gangster while visiting her then husband in Parkhurst prison on the Isle of Wight in 1983.
The pair became close after Kray, who died of cancer in 2000, said she reminded him of his late wife Frances.
The lots, which included a painting and a pencil sketch, sold for £1,360.
Ms Kelly, of north-west London, maintained contact with Kray through prison visits, letters and phone calls from 1983 to 1989 but insisted it was strictly platonic.
The villain was so fond of Ms Kelly that he even paid for the rent on a flat on the Isle of Wight so she could visit him in prison with her then eight-year-old son David.
To some, Kray's claim to have become a born-again Christian was seen as a cynical attempt by him to help secure his release from jail, where he was serving life for murdering Jack "The Hat" McVitie.
But in the collection, he shows apparent sincerity in his actions, according to Ms Kelly, a grandmother-of-five who is now a volunteer at Holloway prison.
Writing to her after the breakdown of her marriage, he told her: "Get your head together. Don't contemplate suicide.
"I became a born-again Christian on behalf of you."
This letter was among nine which failed to sell after its reserve price was not met.
A letter that sold for £95 was written by Kray from Lewes prison in which he referred to Ms Kelly as being a big part of his life.
Ms Kelly, now in her 50s, said she never saw Reggie Kray as the man considered to be one of the foremost perpetrators of organised crime in the East End in the 1950s and 1960s.
Speaking at Gorringes Auctioneers in Lewes, East Sussex, she said: "I'm glad it's all over because I've had them for 25 years.
"As my pastor said, everyone is now aware that Reggie was a born-again Christian.
"I'm happy with how much they fetched. It's quite sad to see them go but I still have a copy of everything on CD.
"I just hope that the person who has bought the items looks after them."
As well as letters, Kray also sent a signed oil painting of a boxer to her son and a coloured pencil sketch of himself as a cowboy. They sold for £800 and £420 respectively.
Ms Kelly said all proceeds were being donated to the Royal Free Hospital in Hampstead.
Related Internet Links
The BBC is not responsible for the content of external sites.