National Trust concern over forest sale plans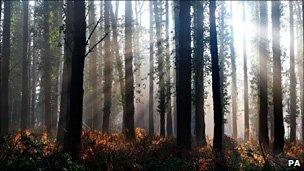 Government proposals to sell off publicly-owned forests have raised concerns with a conservation group.
The National Trust said the policy had "lots of holes" and feared that central funding for organisations taking over the woodland could eventually dry up.
Ministers have outlined options for the future ownership of the public forest estate over the next 10 years.
These include inviting charities to take on the ownership of "heritage forests" such as the New Forest and the Forest of Dean, helping community groups buy or lease woodland, and a £250m sale of leaseholds for forests commercially valuable to timber companies.
However, National Trust director general Dame Fiona Reynolds said there were still many questions that needed to be answered about the proposals - and the charity asked members of the public to send in their views, including using Twitter and Facebook.
Dame Fiona said: "We've had these problems where a grant given in good faith has been under pressure or been whittled away and we've gone out to find money from other sources to compensate.
"It's a worry for us. No government can mandate its successors. We know from experience there are some very difficult issues."
The trust's chairman Simon Jenkins said government policy on the future of public forests was very unclear and "evolving with remarkable speed".
The plans have attracted cross-party political criticism and public protest - although Environment Secretary Caroline Spelman has said "wild speculation" had caused much of the concern.
She said the proposals were not a "done deal" and denied the plans had already been axed.
The Forestry Commission owns just under a fifth of the woodland in England, in about 1,500 locations.
Related Internet Links
The BBC is not responsible for the content of external sites.