Joint crackdown on South West illegal tobacco trade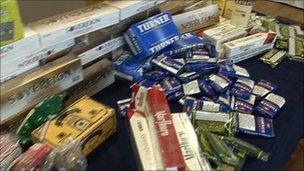 More than a third of smokers in Devon and Cornwall have been offered illegal tobacco to buy, it has been revealed.
Smokefree South West is one of a number of agencies involved in an initiative to crack down on the sale of smuggled or counterfeit tobacco products.
The government-funded body said more than 200,000 smokers in the region light up with bootleg tobacco.
HM Revenue and Customs said the market had been flooded for the benefit of organised crime.
Some of the products are produced abroad for sale only on the black market.
Dr David Phillips, from the South West Regional Tobacco Control Board, said adopting a multi-agency approach was necessary.
"Cigarettes are coming in at one place and getting sold and distributed in other areas, so it's recognition of real life," he said.
Stephen Meal, from Trading Standards, said one of the biggest temptations for smokers was the price.
"As the price of tobacco goes up, as the controls on tobacco increase, the avenue for illegal and counterfeit tobacco increases," he said.
The joint agencies have issued a health warning to smokers who might be tempted to buy black market goods, as there is no way of knowing what some of them contain.
"You really need to be very, very careful about what's in the cigarettes," Dr Phillips said.
Related Internet Links
The BBC is not responsible for the content of external sites.