Facebook murder mother feels 'fobbed off'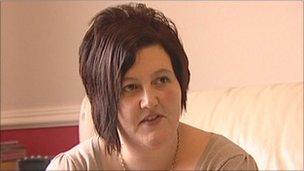 The mother of a teenager who was murdered by a man she met on Facebook has said she feels fobbed off by the first report into the case.
Ashleigh Hall, 17, from Darlington, was murdered in 2009 by Peter Chapman, whom she met online.
The Independent Police Complaints Commission (IPCC) is carrying out two investigations into the police's monitoring of Chapman.
The first concerned the use of Automatic Number Plate Recognition.
The other is into how Merseyside Police monitored Chapman, who was on the sex offenders register.
The Automatic Number Plate Recognition inquiry has been looking at how intelligence on Chapman's car was dealt with by Durham, Cleveland and North Yorkshire Police.
This report has not been officially published by the IPCC but Ms Hall has seen a copy.
According to her, its conclusions include that is was impossible to say whether the use of ANPR and the Police National Computer may have prevented Ashleigh's murder.
And there was no evidence to suggest that any disciplinary offences had been committed by any police officer or member of police staff, Ms Hall said.
She said: "It's just a total fob off. Nobody was in the wrong according to that."
She said she was already aware of most of the information in the report and she felt it did not explain what she hoped it would.
She questioned the use of the ANPR system unless it was constantly monitored.
She said: "If they had done their job properly they would have pulled him over, Ashleigh would have been in the car with him and obviously she would have got home, wouldn't she, and none of this would have happened."
In a statement, the IPCC said it had met Ms Hall to share the findings but the meeting was private.
It said: "However our intention has been to publish the findings from our investigation in due course once our second investigation into how Merseyside Police monitored Chapman as part of the requirements of the sex offenders register is completed."
Related Internet Links
The BBC is not responsible for the content of external sites.