Jet2 suspends flights to Egypt: Tourists 'furious'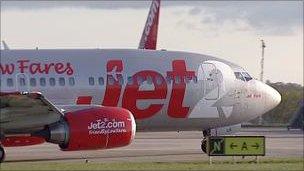 British tourists in Egypt have spoken of their anger after an airline axed flights to a Red Sea resort.
Jet2.com is suspending services to the resorts of Sharm el Sheikh and Hurghada from 1 March amid political unrest.
It said the "safety and comfort of our customers is our number one priority" and pledged to refund bookings.
But retired businessman Peter O'Reilly, and his partner Jacquie Chorley, who are in Sharm el Sheikh, said they were "furious" their trip may be cut short.
The suspension affects flights to and from Leeds Bradford, Manchester, East Midlands and Newcastle airports.
The airline said it was "unable to disclose" how many flights and holidays already booked to Egypt would be affected.
Mr O'Reilly, 67, and Mrs Chorley, 66, are on a month-long winter break after flying from Leeds-Bradford Airport last Friday.
The couple were due to return home on 4 March but the airline has told them to get a flight home with Jet2 on 25 February.
Mr O'Reilly, from Burnham-on-Sea, Somerset, said Jet2 should honour the original booking.
"There were a number of empty seats on the flight out and I think they are more concerned about that then anything else," he said.
"Thomson are still flying people out here and as of yesterday the Foreign office website was advising against travel to Cairo but the Red Sea was still considered safe.
"Hardly had the lady representing the Foreign Office left the hotel after assuring us Sharm was safe when Jet2 dropped this bombshell."
Mrs Chorley, a retired nurse from Guiseley, West Yorkshire, said: "When I came out from Leeds-Bradford Airport last Friday there were lots of empty seats.
"I suspect it is the empty seats they are worried about rather than my welfare.
"This is my third time staying at this hotel and the staff here are wonderful and can't do enough for you. I feel completely safe here.
"Out in the streets and down on the beaches all is calm, so why are Jet2 contradicting the British government and trying to cut my holiday short? I'm furious."
Jet2.com said: "Due to the ongoing state of civil and political unrest in Egypt, Jet2.com and Jet2holidays have suspended flight services and holidays to Sharm el Sheikh and Hurghada from 1 March.
"Whilst the Red Sea resorts are not currently affected, the safety and comfort of our customers is our number one priority, and as such we do not want them to face the stressful uncertainty of whether their holiday will go ahead as planned."
The company said all affected passengers booked to travel to Egypt had been contacted and feedback from customers was that they were relieved by the decision.
"Customers will automatically receive a full refund for the cost of their flights or holiday, plus a discount off a new booking.
"Jet2.com and Jet2holidays will replace the suspended Egypt programme with additional flights and holidays to Spain and Portugal adding 70,000 seats across a number of its bases."
Related Internet Links
The BBC is not responsible for the content of external sites.