Great Western Ambulance industrial action talks pledge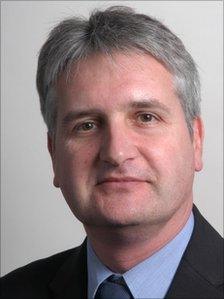 The new interim chief executive of Great Western Ambulance Service (GWAS) says solving outstanding industrial relations is a "top priority".
Martin Flaherty said he would be working closely with union officials.
"No-one wants to see standards of patient care affected by industrial action," he said.
Unison members in Bristol, Wiltshire, parts of Somerset and Gloucestershire are in dispute with GWAS management over pay and conditions.
GWAS said the changes were about saving more lives and having staff and vehicles available when they were needed by patients.
Unison claimed some workers could face pay cuts, while non-peak cover could be "slimmed down" as part of management plans.
Mr Flaherty joined GWAS on 7 February as a temporary replacement for David Whiting until a permanent chief executive is recruited.
This process is expected to take six to nine months.
Mr Flaherty said he had a a "long history" of working with trade unions to solve problems and move things forward in a way beneficial to both patients and staff.
Former boss David Whiting left GWAS at the end of January to become chief executive of Yorkshire Ambulance Service.
No-one from Unison could be contacted for comment about the appointment.
Related Internet Links
The BBC is not responsible for the content of external sites.