'I don't want to be a fluoride guinea pig'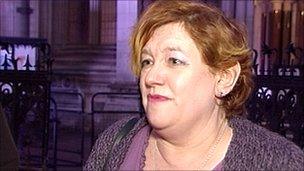 Geraldine Milner was so incensed when her health authority pushed ahead with plans to put fluoride in Southampton's tap water despite local opposition she fought the decision in the High Court.
The mother-of-three said she was "livid" when she learnt fluoride was to be added to the city's drinking water despite a public consultation which showed most people did not want it.
However her claim that South Central Strategic Health Authority (SCSHA) had acted unlawfully by not properly considering residents' views has now been rejected by the High Court.
She said started the legal challenge because she felt her "basic human right" of clean water was under threat.
"It's not like I can get water from the local river," she said. "I don't have any other alternative.
"They are polluting my only water supply - and it's already got chlorine in it."
Tooth decay is a big problem among children in Southampton. Up to 42% of the city's five-year-olds have had tooth decay, according to Southampton City Primary Care Trust.
The trust said in south Birmingham, which has fluoridation, only 25% of five-year-olds have had tooth decay.
SCSHA argued that adding fluoride to tap water would improve dental health and said this was backed up by research in other fluoridated cities, such as Birmingham.
Ms Milner said she was concerned there were health risks associated with high doses of fluoride.
"I don't want to be a guinea pig," she said. "It feels so wrong. I don't want something foisted on me.
"I'm capable of making my own decisions - right or wrong, it's my choice."
Problems arose when the SCSHA instructed Southern Water to add fluoride in February 2009 - despite a public consultation which suggested 78% of people were against this.
An opinion poll commissioned by the SCSHA produced a narrower result, with 38% against the scheme and 32% in favour and 29% "don't knows".
Ms Milner, whose children are aged 17 to 21, said she was very angry, especially as she felt the consultation exercise had been unfair.
"The fact is they decided to go ahead with it, without listening to all the people who said they didn't want it here," she said.
The case went to the High Court, where judges considered whether there should be a judicial review.
Ms Milner's counsel David Wolfe told the High Court last month the health authority decision meant about 195,000 residents would have fluoride added to their water "whether they liked it or not".
However after considering the case, Mr Justice Holman ruled there was no substance in any of the grounds of complaint.
The judge said he was sympathetic to the position of Ms Milner and "many objectors in the affected area" but that Parliament had entrusted such decisions to the relevant strategic health authority.
"Contrary perhaps to the belief of Ms Milner and others, it is not the law that fluoridation can only occur when a majority of the local population agree," he said.
Opponents of fluoridated water claim it is forced mass medication with uncertain consequences, such as cancer and thyroid problems.
Numerous studies have been carried out, with key studies finding no link between fluoridation and diseases such as cancer and bone fracture.
Mr Wolfe had stressed the case was not about the health merits and arguments which he said were "not all one way by any means".
It was about the legality of the compulsory scheme - the first of its kind in the UK for 20 years.
Ms Milner said she was not in good health and was concerned fluoride would aggravate her asthma and other problems.
"But my biggest worry is that there could be an accident and it will happen," she said. "Machinery can go wrong and people are fallible and it could lead to high doses of fluoride in the water supply."
Ms Milner also questions to what extent putting fluoride in tap water can prevent tooth decay.
She claimed a scheme in Scottish schools where children were encouraged to brush their teeth after lunch would be more effective, as well as more education on the subject.
Ms Milner said she now would consult with her solicitor about the legal options available.
The SCSHA said after the case: "The SHA board remains satisfied that water fluoridation is a safe and effective way to improve dental health and will now be considering its next steps."
Related Internet Links
The BBC is not responsible for the content of external sites.