Probe into monitoring of Facebook killer finds 'flaws'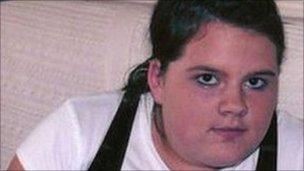 An inquiry into the monitoring of a sex offender who murdered a girl he met on Facebook has highlighted "serious flaws" in the police's automatic number plate recognition (ANPR) system.
Ashleigh Hall, 17, from Darlington, was murdered in 2009 by Peter Chapman, whom she met online.
The Independent Police Complaints Commission (IPCC) is carrying out two inquiries into Chapman's monitoring.
The first concerned the use of Automatic Number Plate Recognition.
Details of Chapman's vehicle had been circulated on the Police National Computer in October 2009, the month Ashleigh was killed, by Merseyside Police after he failed to notify a change of address in line with his sex offenders' registration.
The Durham, Cleveland and North Yorkshire forces all recorded ANPR "hits" on their system between 23 and 26 October.
These resulted in Chapman's arrest by Cleveland Police, at which point he confessed to Ashleigh's murder.
The three forces later made a voluntary referral for an independent investigation.
In the official findings IPCC Commissioner Nicholas Long said: "This investigation has highlighted serious flaws in the operation of the ANPR system.
"It is clear that it can be a very valuable asset, but it is dependent on the system being managed and monitored well and containing accurate information."
He added that there needed to be a "full review" to ensure the ANPR system was fit for purpose.
He also stated that it was "impossible to say with certainty" that better use of ANPR could have prevented Ashleigh Hall's murder.
He added: "But it is clear there were opportunities missed here. It took 16 hits on the ANPR system before Chapman was finally arrested. Tragically in that time he was able to enact his terrible plan to murder Ashleigh."
He also made clear that the issue of the report was around "systematic failures" and not "individual misconduct".
The Cleveland, Durham and North Yorkshire Police forces responded in the form of a joint statement.
It said: "Between 23rd and 26th October 2009, there were 12 activations in the Cleveland area; two in North Yorkshire and two in County Durham.
"In Cleveland action was taken in relation to nine out of the 12 activations by either deploying a unit or circulating the vehicle for observations.
"It was as a result of these activations that Chapman was arrested, and his subsequent disclosure that he had committed a murder."
It said the cameras in Cleveland, Durham and North Yorkshire "read" on average a total of 24 million vehicle number plates every month.
Of those, 311,000 vehicles were flagged up as being of "potential interest" to police.
It said in the case of the police forces concerned, the information was checked continually but a "response to an activation had to be balanced against other priorities and resources available at the time".
The Association of Chief Police Officers (ACPO) said in a statement: "We recognise this is an extremely tragic case, and are committed to learning any lessons from the report's findings.
"Much has already been done to improve the efficacy of ANPR systems nationally, and we firmly believe that it remains a valuable tool, that aids the service in successfully apprehending offenders in many cases."
Ashleigh Hall's mother said she felt "fobbed" off by the report.
She said she was already aware of most of the information in the report and she felt it did not explain what she hoped it would.
The other IPCC report, which is due within the next three months, examines how Merseyside Police monitored Chapman, who was on the sex offenders register.
Related Internet Links
The BBC is not responsible for the content of external sites.