Thames Water amnesty targets 6,000 homes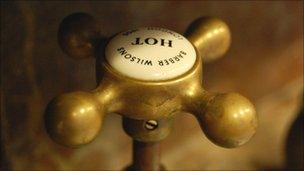 Thames Water has identified more than 6,000 households which could face hefty water bills unless they respond to an amnesty to find unbilled customers.
The firm began the amnesty on 20 January, giving customers six weeks to get in touch or face charges backdated by up to six years.
A team of 200 auditors has so far counted 865,664 properties with 6,009 identified as possible being unbilled.
A total of 2,495 people have come forward leading to checks on 949 homes.
Unbilled customers who have contacted the helpline will have their previous charges waived if they agree to pay from now on.
Thames Water supplies 8.7 million households in London, Berkshire, Buckinghamshire, Gloucestershire, Kent, Oxfordshire, Surrey and Wiltshire.
Customer services director Mike Tempest said: "We're at the halfway point of our amnesty and so far there are far more people who could face a nasty shock - in the form of six years of bills in one go - than there are people who have come forward.
"People who call our amnesty line have nothing to worry about.
"If we confirm them as unbilled, any back-charges will be waived provided they agree to pay from now on, which is great news for them."
Thames Water said it was particularly targeting properties which had been split into separate dwellings but had not received separate bills.
Related Internet Links
The BBC is not responsible for the content of external sites.