Online poem by Facebook users highlights teen abuse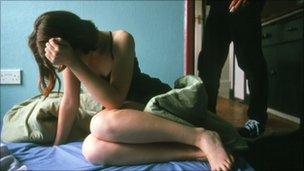 An online poem written by Facebook users has been published as part of a campaign to highlight teenage domestic abuse.
The Is This Love? campaign was launched by Devon and Cornwall Police.
The poem was created over 10 days, with a line added each day following suggestions from visitors to the campaign's Facebook page.
Detective Superintendent John Clements said the campaign had given victims "reassurance" that they were not alone.
An NSPCC study on teenage relationships in 2009 showed 25% of girls and 18% of boys reported some form of physical violence.
The police campaign aimed to raise awareness of domestic abuse among young people and show that violence can be emotional and financial as well as physical.
The poem begins: "They call it the silent crime/Yet I've never screamed so loud inside."
Det Supt Clements said: "You don't often get touched by things when you're an old copper like me but this poem is poignant because you know the lines mean so much to the people who have contributed them."
Fiona Richardson, who escaped with her young son from an abusive relationship when she was a teenager, said: "This has been a very powerful campaign.
"If Facebook had been around when I was a teenager it would have changed my circumstances.
"My only option was to go to the police and I was too scared to do that.
"The Facebook campaign shows there are a lot of people going through the same situation."
A spokesperson for the NSPCC said: "A third of girls suffer unwanted sexual acts in a relationship and a quarter physical violence.
"It is shocking to find that so many young people view violence or abuse in relationships as normal and many will not tell their parents what is happening.
"We must make sure that every young person knows this behaviour is never acceptable, that nobody should hurt or scare them."
Related Internet Links
The BBC is not responsible for the content of external sites.