Tarmac lorry overturns on M3 in Surrey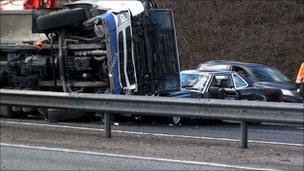 A section of the M3 in Surrey was closed for more than 10 hours after a lorry carrying hot Tarmac overturned.
The surfacing material spilled across all three lanes and the hard shoulder when the lorry overturned, then set.
Between 10 and 15 vehicles were involved in the crash, between junction three for Bagshot and junction two for the M25 on Monday at about 0945 GMT.
The Highways Agency said staff started reopening the northbound carriageway at about 1730 GMT on Monday.
Traffic was forced to a standstill at the time of the crash and a five-mile queue of traffic was reported on the M3, tailing back to junction four at Camberley.
Officers said the traffic backlog had been cleared during the day but the clean-up operation would take longer.
Earlier, the Highways Agency said special equipment was being brought in to remove the Tarmac.
Highways Agency spokesman James Wright said: "It has cooled quite quickly and will have to be physically scraped off using specialist equipment.
"Because of the amount involved, it will have to be done more than once so it will be a reasonably lengthy operation."
Police, fire crews, the ambulance service and the Highways Agency attended the scene after the 26-tonne Volvo tipper lorry overturned on to a car.
There were no reports of serious injuries, but three men and a woman were taken to Frimley Park Hospital with minor injuries.
After the northbound carriageway was closed, the southbound carriageway remained open but with slow-moving traffic, police said.
Related Internet Links
The BBC is not responsible for the content of external sites.