Man arrested after Crawley fan 'mocks Munich air crash'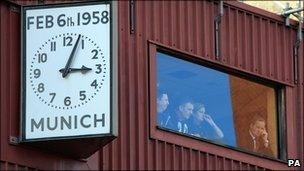 A man has been arrested following a complaint that Crawley Town's FA Cup song featured a supporter mocking the victims of the Munich air crash.
The non-league side and musician Mike Dobie recorded The Specials' A Message To You Rudy as A Message To You Rooney, ahead of their Manchester United match.
A United fan complained that the video, posted on YouTube, featured a supporter making aircraft gestures.
The 1958 air crash left 23 people dead, including eight United players.
Manchester United were returning from a European Cup tie against Red Star Belgrade when their plane crashed on a runway in Munich.
Crawley Town will face United in the fifth round of the FA Cup at Old Trafford on Saturday.
Sussex Police said a man was arrested on suspicion of causing harassment, alarm or distress and bailed until 25 February.
A spokeswoman added: "A 19-year-old man was last night arrested by police in Crawley following complaints about the content of a music video produced to support Crawley Town Football Club in its FA Cup run.
"The man from Crawley was arrested under the Public Order Act on suspicion of causing harassment, alarm or distress and has been bailed until 25 February pending further inquiries.
"As part of his bail conditions the man is not allowed to travel to Manchester for the Crawley Town Football Club match against Manchester United on Saturday."
Crawley Town are believed to have given the fan a lifetime ban from the club.
Wilf McGuinness, who was a United player at the time of the disaster, said: "They just don't know what it means actually, when people shout bad things about that especially they don't realise.
"It doesn't hurt now because we think they're just stupid."
Mr Dobie said: "The video was done with the intention of a feel-good factor.
"Nobody spotted it... and I'd obviously like to continue talking about the positive side because I realise that's not what we're about."
Related Internet Links
The BBC is not responsible for the content of external sites.