Superbug's spread across West Midlands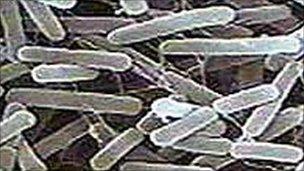 A superbug that contributed to the deaths of about 80 patients in Shropshire, has become dominant across the West Midlands.
Researchers in Birmingham, led by Professor Peter Hawkey, said they were surprised at how quickly E.coli ESBL had spread throughout the region.
Professor Hawkey said: "For these ESBL strains, there's a group of antibiotics called carbapenems, but there is only one group and with resistance to that group we are left with no treatment at all."
The 2003 outbreak of E.coli ESBL in Shropshire spread from The Princess Royal Hospital in Telford to the Royal Shrewsbury Hospital and led to bladder infections and blood poisoning, particularly in the frail and elderly.
Research carried out at the time suggested that it had directly contributed to the deaths of 10 patients out of a group of 54 patients reviewed, but could have been responsible for 87 of 326 deaths recorded.
The new research has been carried out by the Public Health Laboratory at Heart of England NHS Trust in Birmingham.
It took a snap shot of all E.coli infections from 13 hospitals across the West Midlands.
As well as the strain found in Shropshire being dominant, enzymes from the strain were present in 96.6% of the 345 samples - showing a startling ability to adapt.
"It is a grave concern. It is one of the biggest threats we have at the moment.
"The pharmaceutical industry are developing new antibiotics, but they won't be ready for at least five years," said Professor Hawkey.
At the University of Warwick department of biosciences, scientists now believe that there is growing evidence that these resistant strains can spread through the environment.
For example, team member Dr Will Gaze said he had found far higher concentrations of multi-resistant E.coli downstream of sewerage outlets.
The team believe that unlike normal E.coli , the multi-resistant organism can survive for longer outside the gut.
Professor Liz Wellington at Warwick University said low levels of antibiotics were getting into the environment.
With antibiotics around, the bacteria's ability to swap DNA with other bacteria could speed up the ability to gain resistance. It can also create new, more dangerous bacteria.
"It is a sort of cocktail effect. All these things come together in the environment which is a repository for waste," she said.
Although it is a serious problem, Professor Hawkey said the UK was better placed than some countries like India and China where multi-resistance to antibiotics is more widespread.
Related Internet Links
The BBC is not responsible for the content of external sites.