Durham Council apologises over 7p tax bill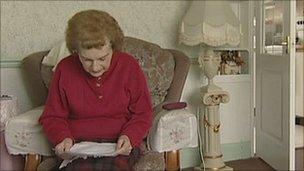 Durham County Council has apologised for sending a great-grandmother a demand for a few pence outstanding on a 12-year-old council tax bill.
Elsie Gallagher was told that the underpayment of 7p would be added to her next bill.
The 82-year-old, from Horden, said it was "ridiculous" to go to the effort of sending out a letter for that amount.
The council blamed it on a computer error and said it would not normally chase such a small debt.
Mrs Gallagher said: "I had to study it twice really because it goes back for 12 years.
"I'm just so sad to think that this country is in such dire straits that they had to send a letter for 7p.
"They must be trying to rake up all the pennies they can to make into shillings and pounds."
A spokesman for Durham County Council said it was a genuine error and apologised for any inconvenience caused to Mrs Gallagher.
Related Internet Links
The BBC is not responsible for the content of external sites.