Tombstoning victim Sonny Wells in Dover safety DVD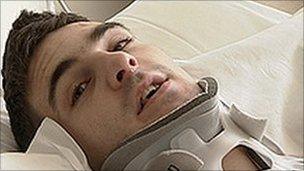 A former soldier who broke his neck in three places when he jumped from a pier has helped to make a DVD warning about the dangers of tombstoning.
Sonny Wells, 23, who was paralysed after jumping 30ft (9m) from a pier into 3ft (90cm) of water, wanted to deter others from risking their lives.
Six people have died after tombstoning in the UK in the past two years.
The film was made in Dover and will be launched in Kent by Port of Dover Police.
It includes footage of Kent's emergency services dealing with a tombstoning incident.
Mr Wells, of Waterlooville, Hampshire, jumped from a jetty in Southsea in 2008.
His injuries forced him to give up the sports he loved and he must spend the rest of his life in a wheelchair.
His mother, Jacqui Unal, 46, said: "We know that we can't stop all youngsters and adults from tombstoning but if we can stop just a few of them from doing it then it would have been worthwhile.
"If they could see Sonny they wouldn't do it. It takes him half an hour to get dressed now instead of five minutes because he has to use his teeth.
"He doesn't go out much now and doesn't want people to see him. His whole life has changed.
"Only last week he posted a message on Facebook, saying 'Do you ever wish you could turn back time?"'
Ch Insp Neil Care, from Port of Dover Police, said: "This powerful DVD is aimed at educating those that may be tempted to participate in tombstoning and highlights the dangers and potential implications surrounding the activity."
Nadeem Aziz, chairman of the Dover community safety partnership, which funded the project, said: "This is a very important issue in coastal towns and is something that can have devastating effects on individuals and their friends and family.
"We all must play our part in discouraging this dangerous and potentially fatal activity."
Maritime and Coastguard Agency figures show 189 tombstoning-related incidents were recorded between 2004 and 2009.
In the past two years, six people have died and 22 have suffered serious injuries, the majority of which were spinal.
Related Internet Links
The BBC is not responsible for the content of external sites.