More blooms in Devon and Cornwall's spring flower count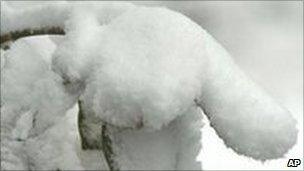 Despite the recent harsh winter, more spring flowers have been counted in National Trust gardens across Devon and Cornwall.
The trust carries out an annual count of flowering plants every Valentine's Day.
This year there were 1,395 plants recorded in 16 gardens in Devon and Cornwall compared with 1,115 in 2010.
Despite the rise, there were still fewer blooms than the early spring of 2008.
Twenty-two additional gardens across the country took part in the count this year, with an overall 17% increase nationally in the number of plants and bulbs in bloom by mid-February.
The trust's garden adviser for the South West said because this winter's freezing temperatures were earlier, the coldest snap hit at a time when buds were at their tightest, giving plants the most protection to make a good recovery when temperatures started to rise.
Ian Wright said: "In the South West our gardens are just beginning to burst into life.
"The worst that could happen now is a late cold spell which would damage the buds which have already begun to open.
"It is the coldness of the ground, and the distinct lack of sun to inject some warmth into the ground that has slowed up some of the emerging early flowers, although the relatively warmer weather in the last couple of weeks has helped rally plants and bulbs.
"When we do get some warmth from the elusive sun, our gardens will be under starter's orders and, quite frankly, bursting with blooms, blossoms and flowering bulbs."
Mr Wright said 2011 could be a particularly good year for rhododendrons.
Killerton in Devon had the highest number of flowers with 200 blooms recorded, while the biggest increase was at Glendurgan in Cornwall, where the bloom count increased by 45 to 149.
The count has been conducted at Devon and Cornwall trust sites since 2006.
Related Internet Links
The BBC is not responsible for the content of external sites.