Lapland brothers guilty of misleading customers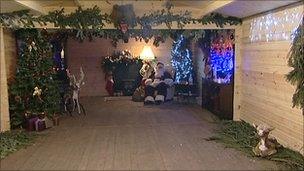 Two brothers have been found guilty of misleading thousands of customers at a Lapland-themed park.
The New Forest attraction promised a "winter wonderland" of log cabins and a bustling Christmas market.
But a court heard visitors were greeted by a muddy field, fairy lights dangling from a tree and a broken ice rink.
Victor Mears, 67, and Henry Mears, 60, of Brighton, who ran the attraction, now face prison when they are sentenced on 18 March.
They had advertised the attraction as a "place where dreams come true" - with tickets costing up to £30.
Yet, the jury at Bristol Crown Court heard within days of the Lapland New Forest attraction opening on the Hampshire-Dorset border, hundreds of disgruntled visitors complained to trading standards officials that they had been ripped off.
Less than a week later in November 2008, the attraction closed, with its owners blaming the media and sabotage by "New Forest villains" for the decision.
In court, Henry Mears said: "Whatever you do, you will find the public complain about something."
The trial heard Victor Mears, of Selsfield Drive, and Henry Mears, of Coombe Road, could have made more than £1m from advanced ticket sales.
The brothers were found guilty of eight charges relating to misleading the public.
Victor Mears admitted to the court he took a "bit of a gamble" in setting up Lapland New Forest without investing any money but he said he believed the money would come in as people bought tickets.
He also claimed he had been bullied and harassed by staff and, because of illness, he had handed over the running of the theme park to his son and brother.
Henry Mears told jurors his role was to organise the advertising and co-ordinate the theme park's website but he said he later took on more of a managerial role.
He was to receive 10% of ticket sales but said a £100,000 cheque given to him by his brother Victor bounced, the court heard.
"Victor's idea was to do the ultimate Christmas grotto, outside as opposed to inside," he told the court.
He admitted the photographs on the website were not of Lapland New Forest.
"It was showing the Christmas spirit to good-minded people," he said.
He said that, in his opinion, the attraction was everything they promised customers it would be.
Judge Mark Horton said the pair had "delivered misery to thousands of people" and that Victor Mears "had a substantial history of serious criminal matters".
Dorset County Council, which brought the case to trial, said it was "satisfied that a very long court process is now coming to an end".
A special programme entitled The Men Who Stole Christmas - Lapland New Forest will be broadcast on BBC1 in the South at 1930 GMT and will subsequently be available to watch on iPlayer.
Related Internet Links
The BBC is not responsible for the content of external sites.