Minister intervenes in gun licence row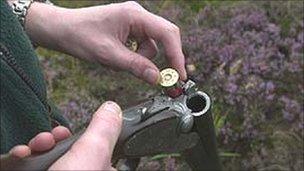 A government minister has intervened after police in Essex, Hertfordshire, and Bedfordshire said they intended to stop blanket home visits to gun holders renewing their licences.
The forces want to process most licence checks by phone or post to save money.
Minister for Crime Prevention James Brokenshire is writing to all chief constables in England and Wales reminding them of guidelines.
He is also to review licence fees to ensure the cost of the scheme is met.
Officers in Essex, Hertfordshire and Bedfordshire had said they would be using intelligence gathering and information supplied to them as part of their risk assessment on renewals but Mr Brokenshire fears this would be conducting renewals by "remote control".
"We think that seeing someone, seeing the environment, inspecting where guns and ammunition are being stored is an important part of the process to ensure that the police are being satisfied that the relevant licensing conditions are being adhered to and getting a sense of the individual," Mr Brokenshire said.
"We think that doing that almost by remote control doesn't have those elements attached to it and why we think that it is an important part of the process."
Steve Ottaway, collaboration programme director for Bedfordshire and Hertfordshire police, disagrees with the minister's view.
"We are not compromising public safety," he said in response to an earlier report.
"We are taking a risk-based approach to this, we can show that only 0.2% of home visits actually lead to a revocation of a certificate in Bedfordshire and Hertfordshire.
"Unfortunately in the current climate policing is having 20% removed from its budgets we have to make best use of that money and we are adopting a risk-based approach."
A firearms licensing officer, who did not wish to be named, told the BBC that police forces only recovered a quarter of the cost of the work involved around licensing and renewals from the cost of the licence which has remained the same for 11 years.
The grant of a firearm/shotgun certificate is £50 and the renewal cost is £40.
Mr Brokenshire said: "We have been working on an urgent review around the licence fees so that they are on a full cost recovery basis.
"It doesn't seem right that the police should be bearing a number of those costs."
The decision by Essex police to renew gun licences by post has also prompted criticism from the Essex Police Federation.
Its spokesman Mick West, a former firearms inquiry officer, said he wanted the decision reversed.
"I would have some fears about postal renewals, fears about a lack of personal involvement that comes with home visits, the lack of checks of physical security for that person to hold a firearm.
"I certainly would have some fears on my own behalf and behalf of the public of Essex and those that ultimately licence that person to hold that firearm."
The Association of Chief Police Officers recommends home visits to gun holders every five years.
In a statement the Home Office said: "The UK's firearms laws are among the toughest in the world.
"Firearms licensing departments carry out statutory functions which are crucial to public safety and we expect every police force to make full checks on all those applying for or renewing a licence.
"Chief constables have a duty to provide assurance to the communities they serve that the public will be protected."
Related Internet Links
The BBC is not responsible for the content of external sites.