Pete Waterman backs London-Birmingham high-speed rail link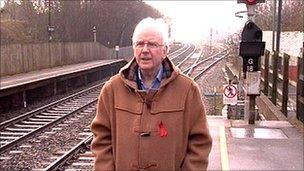 Britain will be left behind other European countries if it does not get a high-speed rail link, pop mogul Pete Waterman has said.
The entrepreneur and rail enthusiast spoke out after meeting objectors to the proposed HS2 scheme.
"I do feel sorry for some people," he said, "but we've got to look at what's good for Britain."
The £17bn HS2 scheme will create a non-stop 250mph train link between the capital and the second city.
Mr Waterman, who is 64 and originally from Coventry, is president of the Gloucestershire Warwickshire Steam Railway.
He said: "I just feel that this country needs a high speed railway.
"We're the only country in Europe that hasn't got one.
"We're becoming worse than Spain. Spain has got high speed railways - we don't."
"Nobody knows how many people are going to travel on them," he added. "My experience tells me that it's always more than you think.
"I can't believe the government is going to build something that's so expensive that we can't travel on."
The planned route aims to cut journey times between London and Birmingham to 49 minutes.
Lizzy Williams, chairman of Stop HS2, is objecting to the rail link on environmental grounds.
She said she believed the countryside and the environment are Britain's future and that was more important than the proposed rail link.
She believes the government had not looked at all the alternatives.
Chancellor George Osborne said the link would "secure the Midlands' future for the next generation" and create 8,000 jobs.
Mr Osborne added that people affected by its construction, including in Northamptonshire, Warwickshire, Staffordshire, Buckinghamshire and Oxfordshire, would be compensated.
The earliest possible opening date for HS2 is December 2025.
Related Internet Links
The BBC is not responsible for the content of external sites.