Husband of jailed Kent wife talks of drug 'devastation'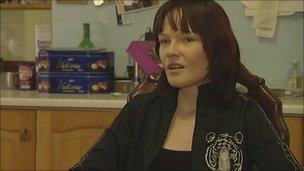 A husband whose wife was jailed for trying to stop their daughter buying heroin has described the devastation drug addiction has caused his family.
Tabitha Saker, 19, was restrained by her mother Julia Saker and an ex-boyfriend to stop her meeting a dealer.
The court heard she was gagged with a sock, her hands were tied and tape was wrapped around her legs.
Julia Saker, 50, is serving a 12-month sentence after admitting false imprisonment at Canterbury Crown Court.
Tim Saker, of Temple Ewell, Dover, said his wife did something every parent would do.
His wife was arrested after Miss Saker called dialled 999 while she was being restrained in October 2010.
Miss Saker's ex-boyfriend, Chris Francklin, who also pleaded guilty to false imprisonment, was also jailed for 18 months in January.
Mr Saker thinks his daughter started taking heroin while she was training to be a casino croupier in Blackpool.
Speaking to BBC 5Live, the 53-year-old said: "She was looking very thin and gaunt, she seemed to be not with us mentally.
"My wife had noticed that her jewellery had disappeared and money had been taken out of the bank account.
"Eventually, we confronted Tabitha and that was the point that she admitted why she had done it."
When he was asked about the affects of her addiction, he said: "I'm disgusted, I really am, It's an awful [thing]. It has far reaching consequences to us as a family and to anybody who comes into contact with that.
"My greatest hate is for the old drug dealers who are actually exploiting people like Tabitha.
"It's quite devastating really. Prior to going for treatment, she was basically just uncontrollable.
"She was trying to get out, mixing with the lowlife people to whom drug taking is part of a day-to-day existence.
"We don't know what she's doing when she's not home, so we try to encourage her to come home so that we can monitor her to get some sort of control, some sort of input into what she's doing."
He said he was not at home when Miss Saker was restrained by his wife but understood why she did it.
Mr Saker added: "Under the same circumstances I think I'd have tried to stop her getting out [of the window] as well.
"I think it's a reasonable thing to do and what any parent would do. To lie back and let it happen, I think, is terrible."
Mr Saker said his daughter did not want her mother to be charged over the incident and wrote a letter asking the judge to show her leniency.
On Monday, she told BBC 5Live: "She shouldn't have had to suffer as a result of me taking drugs. I think most parents would have felt it was the right thing to do.
"She didn't really have much other options."
Mr Saker said his daughter was getting help for her addiction.
He said: "She's actually in rehab at the moment.
"I'm pleased that she's doing what she's doing. She's weaning herself off it and she's in a good place at the moment.
"She's very close to her mother. She's close to me but not as close, she doesn't confide in me. It's a mother-daughter relationship.
"It's not something you can replace."
Mr Saker said his wife was moved into the lower category HMP Send in Woking on Friday but she was still very distressed and they had lodged an appeal against the sentence.
Earlier this month, Charlie Elphicke, Conservative Mp for Dover and Deal, called for sentencing guidelines in light of Mrs Saker's jail term.
He has written to the Attorney General and Ken Clarke asking for a review into the judge's actions.
Related Internet Links
The BBC is not responsible for the content of external sites.