Protest over Durham County Council's £125m cuts plan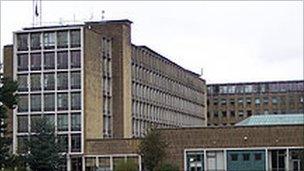 About 100 people have been protesting outside Durham County Hall against proposed cuts to the council budget.
Durham County Council has to cut £125m from its budget over the next four years. Later the cabinet will meet to discuss how this will be done.
The council has warned out of 10,000 posts, 1,600 could go, as well as support for some services.
Peter Chapman from Unison said they hoped to work with the council to avoid compulsory redundancies.
He said: "What we are doing today is highlighting the size of the cuts that are being imposed by the government.
"But also stressing with councillors there is a real need to work with the trade unions to try and minimise the damage done both to the services and the jobs."
There are 6,000 members of Unison employed at the council.
Previously, leader of the Labour-run council, Simon Henig, said there would be an impact on some frontline services.
Proposals include a review of adult social care services, which are predicted to save about £12m.
Mr Henig said: "Inevitably these government cutbacks will impact on the services we provide, however, we have done our best to respond to residents' top priorities.
"As a result we plan to maintain our existing spend on winter maintenance and our existing capital spend on highway maintenance and repairs.
"We will also plan to invest in child protection and do our best to protect a number of areas of adult social care."
"This will of course mean hitting other areas but again we have listened and a range of support services, including management and communications, will therefore face larger reductions."
Savings proposed include more than £6m from a revision of waste and refuse facilities, £3m from county-wide job creation projects, £1.3m from sports and leisure budgets and a further £1.4m from a review of libraries.
Related Internet Links
The BBC is not responsible for the content of external sites.