The damage caused by potholes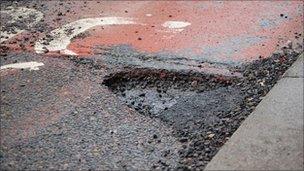 Two freezing winters have created hundreds of potholes across England, resulting in insurers and cash-strapped councils paying out thousands of pounds in compensation.
Corinna Hinks had learnt from media reports that potholes had become an extra hazard for drivers after the coldest December on record.
Councils, which have all been hit by spending cuts, are tackling thousands of potholes which form when water seeps into cracks, freezes and damages the road surface.
Mrs Hinks, from Ellesmere, Shropshire, had begun watching out for potholes while driving on minor roads but thought they were mainly near kerbsides.
So she was shocked to hit one in the middle of the busy A41 around Whitchurch while driving from a friend's house in January.
"My driver's wheel hit one at 60mph. I could hear the clunk as I hit it," she said.
"My alloy wheel was completely bent and my tyre had a bulge in it."
Mrs Hinks, 39, who was driving a BMW 330, was not injured but had to pull over and call her husband for help.
"I was in a large, powerful car, which is very safe, but if some lad in a little 106 or someone on a motorbike had hit it they could have ended up in a hedge... I was just lucky."
Mrs Hinks got a further shock when mechanics found the BMW's suspension was completely damaged and would cost £3,500 to fix.
"It was a bit of shock because I thought it just meant replacing the tyres and the repairs would cost a couple of hundred pounds," she said.
Mrs Hinks claimed on her car insurance but had to pay the £350 excess and faces losing no claims bonuses built up over 20 years.
She said she had not been able to afford to wait to claim through the council and said she had also not been convinced she would be reimbursed.
However, Mrs Hinks did inform Shropshire Council about the pothole and said it had since been repaired.
The Conservative-run council paid out £2,885 in pothole compensation in 2008-09 but more than £44,500 so far this year.
Bob Ellis, head of environmental maintenance, said the council had been "pro-actively checking for potholes" following the severe weather and encouraged residents to report any problems.
Paul Watters of the AA urged people to always report potholes to local authorities, but added that councils might only be liable if the problem had already been reported and not acted on.
He said AA Insurance had received 65 pothole claims in January but estimated it would receive a third fewer claims than in 2010.
However, he said the January figure was still "way ahead" of 2009 when it received 90 claims in the first three months of the year.
"Surprisingly the claims are down a little bit from from last year," he said.
"I think this reflects the way authorities have become more efficient than ever at fixing them."
He said as well as councils becoming "more responsive" to repairing holes, people were reporting more.
Mr Watters, the AA's head of road policy, said there had been fatalities and serious injuries as a result of potholes.
"They can be particularly bad for cyclists," he said.
"A couple of broken wrists is not uncommon if they hit a pothole and go over the handlebars."
In August, an inquest found that 29-year-old Captain Jonathan Allen, who had served in Afghanistan, died after falling into the path of a lorry while trying to avoid a pothole on his bicycle.
Although the pothole had been reported, under Wiltshire Council's criteria, the 0.2in (5mm) hole was too small to be repaired within seven days, the inquest heard.
The council said it carried out an investigation into its systems after the case to ensure Wiltshire's roads were as safe as possible.
Mr Watters added that few pothole claims to AA Insurance were for personal injury.
He said the average pothole claim was for £1,300 and most were from drivers who had lost control after hitting a pothole or to avoid one and had then hit a kerb, lamppost or bollard.
One claimant drove into a police car travelling in the other direction, the AA said.
Many councils are not only having to pay out extra money to fix potholes, they are also faced with rising compensation costs, BBC research has found.
For example, Cumbria County Council revealed it had paid out compensation of nearly £1m over the past three years as a result of potholes and damaged roads.
The Conservative and Labour-controlled authority said the severe weather had led to an "unprecedented" damage on Cumbria's roads.
However, the council, which looks after 8,000 km of road with a maintenance budget of £57.7m, said the payouts were mostly a reflection of the network's length.
Meanwhile, road damage compensation claims against London councils increased by more than 37% during a three year-period - with more than 9,000 claims made.
Related Internet Links
The BBC is not responsible for the content of external sites.