Fake Viagra worth £13m seized in UK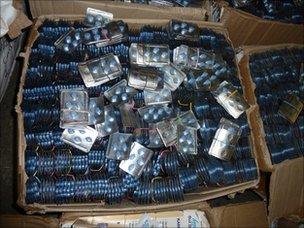 Fake Viagra worth £13m was seized by UK Border Agency officers last year, figures show.
In the largest haul, six million pills were seized in deliveries at Heathrow.
A further 2.1 million fake or unlicensed tablets were found in parcels at the international postal hub in Coventry.
Officials also discovered 250,000 pills at the Mount Pleasant postal hub in London, 116,000 at Birmingham Airport and 50,000 doses at Stansted.
In total, UK border officers intercepted 8.5 million tablets. All were ordered online by British customers.
Fake versions of the drug are produced mostly in the Far East and can contain harmful ingredients, officials warn. They are also unlikely to have the desired effect.
Genuine but unlicensed tablets, often imported from India, contain the active ingredient but have not been through the rigorous tests needed to market medicines in the UK and EU.
Brodie Clark, head of Border Force for the UK Border Agency (UKBA), said: "This massive haul makes it clear just how seriously we take the smuggling of fake and unlicensed medicines.
"Our officers have a vital role to play in protecting British consumers and businesses from the trade in black market medicines and other goods.
"Smugglers are only out to make a profit - these goods are often dangerous and the proceeds can be used to fuel serious organised crime."
The UKBA refers seized pharmaceutical drugs to the Medicines and Healthcare Products Regulatory Agency (MHRA), who take legal action against black market traders.
Related Internet Links
The BBC is not responsible for the content of external sites.