Newcastle cathedral ceremony honours murder victims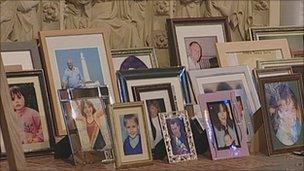 Hundreds of bereaved relatives from around the UK have attended a special memorial service on Tyneside.
The annual event for families and friends of murder and manslaughter victims was held at St Mary's Cathedral, in Newcastle, on Saturday.
During the hour-long service, relatives lit candles and placed photographs of their loved ones the altar.
Olivier Ferez, the father of murdered French student Gabriel Ferez, travelled from France for the service.
The ceremony, organised by the National Victims' Association, was led by the Right Reverend Seamus Cunningham, Bishop of Hexham and Newcastle.
Mr Ferez said: "I found the ceremony very moving.
"My journey here has been very difficult. I have suffered a great deal because of my loss.
"I have been able to see during the ceremony the enormous work that has been done by this group."
Louise Casey, the independent Victims' Commissioner who speaks for families to the government, read out a list of murder victims, including Holly Wells, Jessica Chapman, Damilola Taylor and James Bulger.
She said: "It has been an incredibly moving service.
"Families have come from all over the UK to be together to remember their loved ones, their children, their friends who have been murdered by criminals."
Families released 52 balloons at the end of the service, one for each week of the year.
Related Internet Links
The BBC is not responsible for the content of external sites.