Rescue crews tow stuck 4x4 from mud on Brean Beach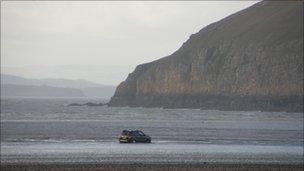 A family of five from Bristol have been rescued after their 4x4 became stuck in mud on a Somerset beach.
A rescue hovercraft and two teams of coastguards were called to Brean Beach just after 1600 GMT on Saturday.
The Hyundai Tucson, which was half a mile from the shore, was towed to safety by the Burnham Area Rescue Boat's (Barb) tractor.
The parents and three children - aged seven, four and two - were unhurt, a Barb spokesman said.
Mike Freye, the owner of the vehicle, said: "I've driven here in the past and know the dangers, but was amazed at how quickly the car just sank into the mud."
He thanked the emergency services and said he would make a donation to Barb.
Mark Newman, chairman of Barb, said the time of high and low tide at the beach, between Weston-super-Mare and Burnham-on-Sea, varied from day to day.
"The tide was going out at the time so fortunately, while it was a serious position they were in, the tide was within an hour of two of reaching them," he said.
"They were about a mile from where a five-year-old girl died on mudflats several years ago.
"It's a dangerous stretch of coastline when the warning signs are not heeded."
Five-year-old Lelaina Hall, from Worcester, died on mudflats at Berrow in June 2002.
Related Internet Links
The BBC is not responsible for the content of external sites.