Ashley Cole Chelsea shooting investigated by police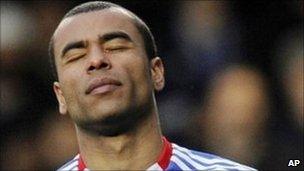 Reports that England defender Ashley Cole accidentally shot a man at Chelsea's training ground in Surrey are to be investigated, police have said.
The News of the World reported that a 21-year-old man had been hit by a lead pellet fired from an air rifle.
Chelsea issued a statement saying the matter had been investigated and "appropriate action" is being taken.
Surrey Police said no allegation had been made but they will contact the club to see if an offence had occurred.
According to reports, Tom Cowan - a sports sciences student who is on a work placement with Chelsea - was treated by the club's medical staff at the training facility in Cobham and did not require hospital treatment.
A spokesman for Surrey Police said: "We can confirm that while no direct allegation has been made.
"The matter has been brought to our attention through reports in the media and we will be contacting the club in due course to establish whether any criminal offence has been committed."
The statement from the club said: "We have fully investigated the incident and we are taking appropriate action.
"We will not be commenting further as it is an internal matter."
Cole, 30, recently became the most capped full-back in English history and was named the England squad's player of the year in 2010.
Related Internet Links
The BBC is not responsible for the content of external sites.