Go-slow fuel price protests on M2 and M25 motorways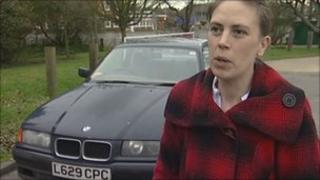 Protesters against the cost of fuel have held a go-slow along two motorways in Kent and Essex to try to get the government to review pump prices.
A convoy of five vehicles left the M2 services at Farthing Corner in Kent at 0815 GMT.
They then joined the M25 and crossed the River Thames at Dartford into Essex, where they headed to the Petroplus Coryton Refinery.
The government has said it is thinking of cancelling April's fuel duty rise.
'Extra hours'
Kent Police, whose officers escorted the protesters into Essex, had been expecting up to 40 vehicles to take part in the convoy, but in the end it was only a handful.
No traffic disruption or delays were reported.
The average price of a litre of petrol now stands at nearly £1.30, with more than 80p going to the Treasury in VAT and fuel duty.
Donna Butler, who organised the protest, said her taxi driver father was struggling to make ends meet and was having to work extra hours on Friday and Saturday nights.
"Because fuel costs have risen so much he has got to put in the extra hours to pay his mortgage and his bills.
"It is horrible to see your own family struggle like that," she said.
But Kent Green Party spokesman Steve Dawe said he believed the protesters were wrong.
'Long-term future'
"They need to be looking at public transport options and to be considering their own vehicle use to reduce their fuel bills," he said.
"We must consider the long-term future and the nature of our economy. We cannot keep using oil as if it was cheap."
Ms Butler said she was hopeful of further protests despite the low turnout on Monday.
"If we keep going and keep pushing, the next time we'll have higher numbers."
Former Labour chancellor Alistair Darling announced a further 1p a litre rise for this April in last year's Budget.
But in January, Chancellor George Osborne said he was considering cancelling the increase in this year's Budget on 23 March.