Blind photographer star of TV ad filmed in Blackpool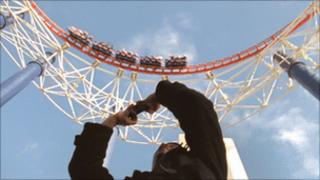 A blind photographer is the star subject of a new TV advert for a mobile phone company filmed in Blackpool.
The commercial showcases Croydon photographer Gary Waite capturing the resort in its glory using a Nokia camera phone.
He said: "I've been taught to use my other senses to take pictures.
"For instance, hearing and smelling the sea air and the sound of the roller coaster then, like every photographer, taking as many shots as possible."
The 49-year-old, who lost his eyesight 10 years ago due to a hereditary eye disorder retinitis pigmentosa, has only recently discovered his talent for taking pictures.
It was charity PhotoVoice, which aims to empower marginalised communities through photography, that introduced Mr Waite to the art of taking pictures in 2009.
It gave a presentation at a support centre he was attending on the charity's work.
Although he had never been into photography before, "I even hated having my picture taken", he decided to give it a go.
He took part in the charity's Sights Unseen project which taught sensory photography techniques for blind and visually impaired people.
"They got us to touch and feel objects first in group therapy then we went out on location to places like the park and the Imperial War Museum."
They then introduced the use of a cane to touch objects and measure the height and distance of the subject.
"The cane is my eyes," he said.
He combined his new found love of photography with his passion for music, he DJs at a blind club, with a photography exhibition on the West Indian sound systems he grew up with at the Notting Hill Carnival.
It proved so popular he went on to publish a book titled Favourite Sessions in 2010.
When the phone provider contacted PhotoVoice for someone to film doing a photo-shoot in Blackpool, they put Mr Waite's name forward for the campaign.
Matt Daw, projects manager at the charity, said the commercial showed that vision was no barrier to producing stunning shots.
"[It] shows that as well as finding photography enjoyable and rewarding, blind and partially sighted people can take fantastic photographs and share their unique perspective on the world with others."
He added: "Gary, and other blind and partially sighted people, experience the world in no less vivid detail than anyone else; it is just that senses other than sight naturally take precedent."
Shooting some of Blackpool's famous landmarks like the Pleasure Beach and the piers has given the photographer a new found appreciation of the resort.
Mr Waite explained: "It was a great experience. Blackpool's a fabulous place and the people are so friendly."
He said he could not wait to return, adding: "I'll definitely be coming back soon.
"I didn't get a chance to do any sight-seeing so I want to come back for the Illuminations' Switch On when the new Tower attractions will be finished and I really want to visit Blackpool FC."
Meanwhile, Visit Blackpool, which helped with the filming, is pleased with the publicity it has generated for the town.
Councillor Maxine Callow, cabinet member for Blackpool's tourism and regeneration, said: "The advert really showcases our resort and reinforces what a great place Blackpool is to visit."