South East Ambulance Service becomes foundation trust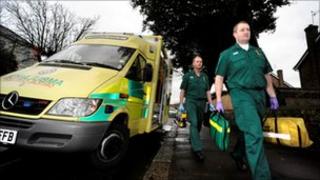 The ambulance service for Kent, Surrey and Sussex has become one of the first to be granted foundation trust status.
South East Coast Ambulance Service (SECamb) was given the new status by Health Secretary Andrew Lansley after assessment by the regulator Monitor.
South West Ambulance Service also became a foundation trust on Tuesday.
"Local people and our staff will now have more say and greater involvement in shaping the future of our service," said SECamb boss Paul Sutton.
People living in the three counties served by SECamb can become members of the trust.
Mr Sutton said thousands had already done so and he urged others who were interested to join.
Elected governors
NHS foundation trusts remain part of the NHS but are run locally and are accountable to patients, local people and staff.
SECamb now has 14 elected public governors, four elected staff governors and eight appointed governors from organisations including hospitals and councils.
The governors will work alongside the board of directors.
A public consultation on whether SECamb should become a foundation trust was carried out in 2009. Out of 809 responses, 90% were in favour.
SECamb was formed on 1 July 2006 following the merger of Kent, Surrey and Sussex ambulance trusts.
It covers an area of 3,600 square miles and a population of 4.5 million in East and West Sussex, Brighton & Hove, Kent and Medway and Surrey.