Shipyard owner A&P Group bought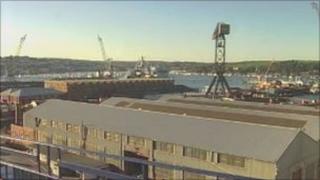 A ship repair and engineering company which owns three shipyards in England is under new ownership.
The A&P Group has been bought by Atlantic & Peninsula Marine Services.
A&P's work includes repairs, conversion and fabrication work at two yards in north-east England - at Hebburn on the Tyne and in Middlesbrough on the Tees.
Its third yard is in Falmouth in Cornwall. A&P said its current management team in the yards would stay in place to run day-to-day operations.
Work currently being undertaken by A&P includes work on Royal Fleet Auxiliary vessels.
It is also working on sections for the new HMS Queen Elizabeth and HMS Prince of Wales aircraft carriers.
A&P said that Atlantic & Peninsula had a wealth of experience in the operation of ports, shipyards and engineering infrastructure and was committed to building on A&P's successes.