Boy sentenced over flaming bottle at fees protest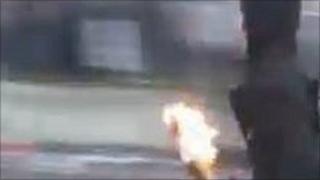 A 14-year-old boy has been given a 12-month referral order after pleading guilty to throwing a flaming bottle towards protesters in central London.
The boy pleaded guilty to affray at West London Youth Court.
The court heard the boy used or threatened unlawful violence when he threw the bottle towards student fees protesters on 9 December 2010.
Thousands of protesters were marching in central London against proposed rises in university tuition fees.