Newton Aycliffe train factory will create 500 jobs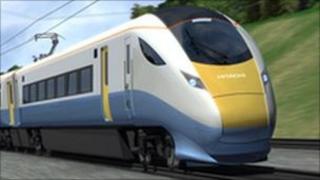 At least 500 new jobs will be created in County Durham under plans to build a new generation of inter-city trains, the government has confirmed.
A consortium led by Hitachi will build a new factory in Newton Aycliffe where rolling stock will be made.
Transport Secretary Philip Hammond said the news was a "massive and very welcome shot in the arm" for the North East economy.
The move is expected to create thousands of associated supply jobs.
'Great news'
The announcement follows a revised bid from the Agility Trains consortium for the new inter-city express programme (IEP) which will see most of the old inter-city 125 trains replaced.
Hitachi is expected to start construction of its European train manufacturing centre at Newton Aycliffe later this year.
Mr Hammond said: "This investment is expected to create at least 500 direct permanent jobs as well as hundreds of temporary construction jobs.
"Thousands more job opportunities will be created in the UK manufacturing and service supply chains."
Sedgefield MP Phil Wilson, whose constituency includes Newton Aycliffe, welcomed the announcement.
The Labour MP said: "This is what we have been waiting for. This is great news."
'Major opportunities'
James Ramsbotham, chief executive of the North East Chamber of Commerce, said: "This important announcement brings train building back to the home of the railways, which is testament to the skills that we still have in this sector and the high-quality workforce that will be assembled to deliver this work."
Stewart Watkins, managing director of County Durham Development Company, added: "This is undoubtedly one of the best pieces of news for the County Durham economy for some time."
In a statement, Hitachi said: "Hitachi is pleased to announce that Newton Aycliffe is the preferred site for its planned European rolling stock manufacturing and assembly centre.
"This investment will generate at least 500 new jobs, and major opportunities for the UK and European supply chain."