Funeral in Colchester of soldier killed in Afghanistan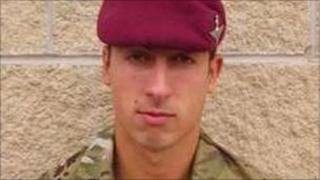 A funeral has been held in Essex for a soldier killed in a blast in southern Afghanistan.
L/Cpl Kyle Marshall, of the 2nd Battalion The Parachute Regiment, died after being caught in a roadside bomb blast in Helmand on 14 February.
The 23-year-old, from Newcastle-upon-Tyne, had been due to marry his fiancee, Hayley, in July.
His funeral has taken place at St Peter's Church, North Hill, with full military honours.
The cortege, led by motorcycle riders from the Royal Military Police and Essex Police, passed along Colchester High Street from East Hill.
L/Cpl Marshall attended the Churchill Community College in his hometown of Newcastle and lived in Colchester, where the 2nd Battalion The Parachute Regiment is based.
In a statement, his family said: "Many of his superiors and colleagues have spoken of Kyle as a force to be reckoned with and a great leader of men who had a tremendous future ahead of him.
"To us, his family, he was an outgoing kid who grew into a confident and cheerful young man who made us laugh at every opportunity.
"If Kyle had been able to make a choice regarding the way he died then we are sure he would have chosen this.
"He died surrounded by his friends and comrades and it brings us great comfort to know that his Para family were with him in his final moments."