Swindon Facebook campaign fiance sets wedding date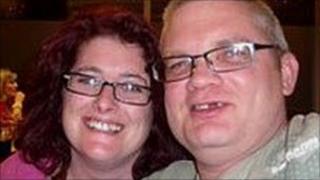 A woman who started a Facebook campaign to persuade her fiance to marry her has got him to set a date.
Paul Mapplethorpe promised he would tie the knot if 31-year-old dinner lady Kelly Coxhead managed to get a million users to join her group on the social networking website.
Ms Coxhead and Mr Mapplethorpe, from Swindon, will now get married on 11 November - 11/11/11.
It comes in spite of the fact the campaign only attracted 58,000 members.
The mother-of-four set up her Facebook group, called "I need one million people to join for Paul to marry me - come on guys help me!", on 10 February.
Page taken down
Over the past 10 years the couple have set several dates for their wedding which Ms Coxhead said had not happened because of "circumstances".
Ms Coxhead told the BBC she was excited about her impending marriage.
She said: "I don't know what clinched it for him, I don't care!
"We were getting lots of messages of support on Facebook.
"We did book the wedding before but then his dad died and we never got round to doing it again."
Mr Mapplethorpe added: "It went worldwide - people from all over were wishing us luck and everything else.
"It was Kelly's idea she wanted an easy date to remember - 11/11/11 - was just off the top of her head - a kind of spur of the moment thing."
The Facebook page appears to have now been taken down.
Ms Coxhead said she did not know why and was contacting the social networking site.