Badger cull police plan in South West sparks concern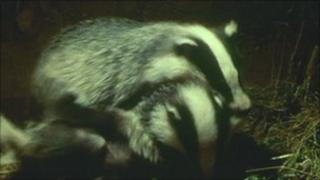 Plans on how a badger cull will be policed by the Devon and Cornwall force have prompted concerns from farmers.
The plan includes "protecting residents and employees" and "facilitating peaceful and legitimate protest".
But farmers, who fear a cull could result in some form of retaliation from animal rights activists, said the issue should be taken more seriously.
A police statement said the force was awaiting the government's proposals on any badger cull.
"Once received we will consider our contingency plans in the light of any anticipated protest," the statement added.
'Constant intimidation'
A police source said there was "no intelligence about planned protests".
Badgers are blamed by many farmers for spreading bovine tuberculosis (TB), which affects cattle, with the South West, west of England and Wales among the worst affected areas.
The Department for Environment, Food and Rural Affairs (Defra) said 6,863 cattle with TB were slaughtered in Devon in 2009, while in Cornwall the figure was 3,545.
The government was expected to announce in May whether a cull of badgers will go ahead, but it has been delayed - partly due to concerns about security.
Responding to a Freedom of Information request by BBC South West's home affairs correspondent Simon Hall, Devon and Cornwall Police issued a half-page handwritten reply with the details of policing a cull - named Operation Cobb.
It was a four-point plan to: protect residents and employees; investigate any criminal offences; facilitate peaceful and legitimate protest; minimise the impact of protests on residents.
When a badger cull was carried out in the South West in 1990 to try to control TB, traps were destroyed by animal rights activists and some also attacked the homes and vehicles of government vets and officials.
Michael Hart, who farms near Mevagissey in south Cornwall, was one farmer who was targeted.
Activists attacked his property, polluted milk tanks, disabled diesel engines using sand and threatened his family.
"There was constant intimidation and the fear that they'd maybe set fire to the barn or let my animals out the fields," Mr Hart told BBC News.
"I would have hoped the police would have a plan going into place now ready for the proposed cull, rather than just a few words on a piece of paper that look like they were written in a hurry."
Ian Johnson, from the National Farmers' Union, said a badger cull would be carried out within the law by specially trained people and if anyone was "misguided or stupid enough" to interfere, he was confident the police would uphold the law.