Views sought over art at new Bilston leisure centre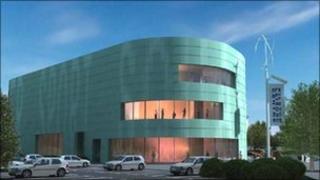 People in the Black Country are being asked what public art they would like at a new £15m leisure centre.
A consultation event will be held over the Bilston facility named after former England and Wolverhampton Wanderers goalkeeper Bert Williams.
Residents can find out about types of public art work and meet artists at Bilston Town Hall on 9 March.
The centre, which is due to open later this year, will include a 25m pool, sports hall and fitness suite.
The council said Wolverhampton's planning policy determines that 1% of the build cost is set aside for the creation of public art.
A plan to name the facility after 91-year-old Williams, from Shifnal, Shropshire, was formally approved.
Wolverhampton City Council unanimously voted the site should honour the goalkeeper, who played more than 400 times for Wolves and for England in the 1950 World Cup and was made an MBE last year.
Next week's consultation event was being organised by Bilston Craft Gallery in partnership with Bilston East, Bilston North and Ettingshall Local Neighbourhood Partnership.
It will take place between 1630 and 2030 GMT on 9 March.