Cumbria gunman Derrick Bird's 'Dunblane' boast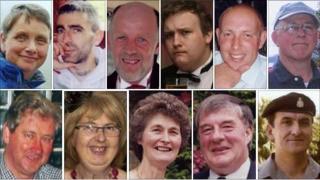 Killer gunman Derrick Bird, who shot 12 people dead, told a friend that "Whitehaven will be as famous as Dunblane", an inquest has heard.
Peter McLean, a scuba-diving friend of Bird, said he made the comment to him at least one month before the shooting spree.
Bird was referring to the fatal shootings of 16 children and a teacher by Thomas Hamilton in Scotland in 1996.
Bird, a taxi driver, shot 12 people dead on 2 June last year.
Mr McLean said Bird had made the remark while in the foyer of a swimming pool in Hensingham, near Whitehaven, where the pair trained with Solway Sub Aqua Club.
Mr McLean told the second day of the hearing that they had been talking about a boat trip that Bird had been planning.
But then out of the blue, Bird made the comment.
"He turned his back on me and said 'Whitehaven will be as famous as Dunblane'," Mr McLean said.
Coroner David Roberts asked the witness what his reaction was.
Mr McLean said: "'Infamous you mean,' I said. I only know Dunblane for one thing.
"He was walking away and he turned around and said 'you will see soon enough'.
"At first I thought it was a sinister thing to say, but it is such a weird thing to say, I couldn't understand why he said it.
"I thought 'has he been watching too many movies?'.
"When I went down to the pub after the pool, I mentioned it to a few people.
"Everybody thought it was such a weird thing to come out with.
"At the time it did not mean anything to me."
Neil Jacques, 52, told the hearing that Bird had said, "I might as well top myself", days before the shootings.
He was petrified he would be sent to jail for tax problems and that his brother David and solicitor Kevin Commons were plotting against him, the inquest heard.
Mr Jacques said his 52-year-old friend was paranoid and worried because he had not paid tax for 15 years.
Mr Jacques, who lived a few doors away from Bird in Rowrah, Cumbria, said he had seen him three times on the day before the shootings.
He also said Bird thought his brother and the solicitor were in "cahoots" against him.
Armed with a 12-bore sawn-off shotgun and a .22 rifle, Bird called victims over to his car during the rampage as if to ask a question, then shot them, the hearing was told.
'I want the gun'
After Bird had shot his brother and Mr Commons he turned up at Mr Jacques' house to collect a gun he had left with him.
But he was out and his wife Carol answered.
Mrs Jacques said: "He said 'Neil has got my gun, I want the gun' and I said 'Neil has it in the cabinet and I have not got the key'.
"I asked him if he wanted a cuppa and he said 'No, I'm going' and he left.
"It lasted only a matter of seconds."
Bird then drove to Whitehaven, where he shot dead fellow taxi driver Darren Rewcastle, 43.
Gary Kennett, a fellow member of the diving club, regularly went out for a drink with Bird each Friday night.
Mr Kennett said Bird began to drink more heavily in the run up to 2 June.
He said he last saw Bird on 1 June, when he pulled over in his car in Workington.
Mr Kennett said: "When I looked in he had a passport and bank book on the seat."
He said Bird had told him he was going to the building society and then going to Thailand to "escape what he felt was coming with the taxman".
Later in the day, at about 1700 BST, Mr Kennett again saw Bird when he handed over diving equipment, saying: "You might as well have it and get more use out of it than I will."
'Totally irrational'
The witness added: "He said he was giving me this gear, he was going down and not going to use it again.
"He was getting worse. Totally irrational.
"He just said 'you have been a good friend and you won't see me again'."
A tax inquiry found Bird had more than £22,000 in an ISA savings account.
Bird also injured 11 others during the rampage in Lamplugh, Frizington, Whitehaven, Egremont, Gosforth and Seascale before he was found dead in a wooded area near Boot.
He had shot himself in the head with his rifle.
During the shooting spree, Bird fired 29 shotgun cartridges and 80 rounds from the .22 rifle.
The hearing, at the Energus Centre, in Workington, is expected to last up to six weeks.