Safety concerns after sea cadet death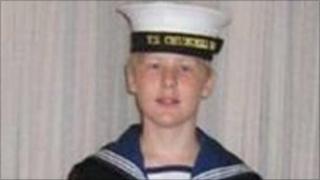 Accident investigators have called for safety procedures to be improved after the death of a 14-year-old sea cadet who fell from a training ship.
Jonathan Martin, from Ashford, Kent, had been on the TS Royalist, anchored at Stokes Bay, off Gosport, Hampshire, when he died on 2 May 2010.
The Marine Accident Investigation Branch (MAIB) said he had unclipped his harness while on the ship's rigging.
He fell backwards, striking the side of the ship, before falling into the sea.
The MAIB report said the teenager, who fell backwards more than 25ft (7.5m), was quickly recovered from the water and taken to hospital by coastguard helicopter but died from his injuries.
'Potentially dangerous'
The report said he had unclipped his belt harness from the wire jackstay, which holds the edge of a sail. This, the report said, was "contrary to his training and onboard procedures for work at that position".
Investigators said the incident had "highlighted concerns regarding the supervision of the cadets when aloft on the vessel's masts and rigging, and the suitability of the belt harnesses provided".
The report recommended that the Marine Society & Sea Cadets and the Royal Navy improved the safety of cadets by reducing the risks to anyone participating in "this challenging, but potentially dangerous activity".
The report said the TS Royalist had been withdrawn from service in September 2010 for a refit and for a review of the equipment and procedures used by cadets when aloft.
The Marine Society & Sea Cadets is also looking into a suitable replacement harness and developing a safety management system for its sea operations.
The teenager was one of 19 sea cadets and 10 staff on board the brig.
They were celebrating the movement's 150th anniversary at the 2010 Sea Cadet Festival, which was held at Gunwharf Quays in Portsmouth over the bank holiday.