Bristol City stadium supermarket scheme approved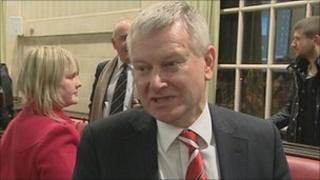 Plans for a new stadium for Bristol City Football Club are "moving ahead" after planning permission was granted for a store on their current ground.
Councillors decided to allow a Sainsbury's to be built at Ashton Gate which would part-fund the new stadium.
The club's chairman, Steve Lansdown, said without the decision the new stadium would have "been on hold".
But talks over an application for a town green at the site of the new stadium have broken down.
Residents want Ashton Vale protected from development and an independent inspector has already recommended that the area should become a town green.
The final decision rests with Bristol City Council and a spokesman told the BBC talks were broken off by the applicants.
'Decent package'
Mr Lansdown said the supermarket decision would be positive for south Bristol.
"What Bristol City Football Club has the opportunity to do now is to bring business, work and benefits into the area through the construction of a stadium," he said.
"In order to get that new stadium built we have to sell Ashton Gate and get the maximum amount of money out of it and this decision last night allows us to do that."
Planners had recommended the supermarket scheme be rejected because of the negative impact on traders in nearby Bedminster but councillors overruled that recommendation on Wednesday.
Bruno Moore, from Sainsbury's, said he wanted to ensure the new store "thrived side-by-side" with local traders.
"Now we've established the principle of the store I'm looking forward to sitting down with traders and working out a decent package of measures that we can all sign up to."
But Charles Cave, from Long Ashton Parish Council, said the new store would bring with it a big increase in traffic problems.
"Winterstoke Road is a very busy road and there is always a queue there. This will only exacerbate it."
Sylvia Doubell, the only councillor to vote against the new supermarket, said she did so because locals were "deeply unhappy" about the impact of the store.
She said she was worried reports pointed to trade being taken away from nearby traders and that would put their businesses "at jeopardy".