Slurry pit plans in Oxfordshire raise health concerns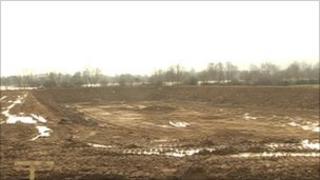 People near a planned slurry pit in an Oxfordshire village have said they fear it may damage their health.
The slurry, from a facility in Yarnton which turns food waste into compost, is currently shipped straight to farms.
Some residents and parish councillors have voiced concern over "airborne bacteria" and "pollution".
Harry Waters, of Agrivert, which runs the site, said: "Scientific bodies have looked at this project and said it is not a health issue."
Agrivert wants to divert up to 40,000 tonnes of waste from its plant near Ardley away from landfill each year.
It has nowhere to store slurry at the moment and so transports it straight to farms.
'No complaints'
The plans to store the slurry in a lagoon on land between Yarnton and Cassington, almost the size of three football pitches, would enable Agrivert to keep the slurry until needed by farms close to the site, reducing transport movements to farms further away.
It said in the past few weeks it had spread 4,500 tonnes of liquid from the plant across local land and no-one had complained of any smell.
But Harry Carrier from the Yarnton Parish Council said: "We have our grandchildren here and we don't want them affected by this pollution."
And Phil Williams, who has lived in the village for a year, said: "There's a problem of the pathogens and the airborne bacteria."
Mr Waters said various agencies had examined the plans for the slurry pit and had not expressed any health concerns.
He said: "We've managed to secure land very locally to the plant and actually all we're trying to do is store this material locally to the plant and therefore reduce the transport movements we have around the county."
The planning application will go before county council on Monday. It is recommended for approval subject to certain conditions.