Inquest told Cumbria gunman Bird's tax fears unfounded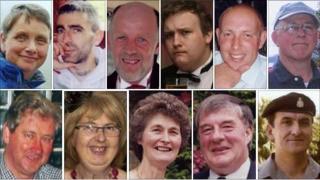 The inquest into the Cumbrian shootings has heard Derrick Bird was not facing prison for tax evasion as he believed and had no significant money worries.
His accountant Peter Ellwood told the Workington hearing that Bird had been warned he owed about £25,000, but had savings of more than £50,000.
Bird, a 52-year-old taxi driver, shot 12 people dead and injured a further 11 on 2 June last year.
The inquest had heard Bird believed he had not paid tax for 15 years.
He had told friends he thought he would be sent to prison at his next meeting with his accountant - due to take place on the day of the shootings.
Earlier, the inquest heard Bird told a friend that "Whitehaven will be as famous as Dunblane".
Armed with a 12-bore sawn-off shotgun and a .22 rifle, Bird called victims over to his car during the rampage as if to ask a question, then shot them, the hearing was told.
Bird's rampage took in Lamplugh, Frizington, Whitehaven, Egremont, Gosforth and Seascale before he was found dead in a wooded area near Boot. He had shot himself in the head with his rifle.
During the shooting spree, Bird fired 29 shotgun cartridges and 80 rounds from the .22 rifle.
Mr Ellwood told the inquests into the 13 deaths that Bird might have had to pay a maximum "worst case" figure of £25,000 if tax investigators trawled back 15 years to when Bird first became a taxi driver.
When Bird was told of the figure, Mr Ellwood said: "He just seemed more concerned about losing his house. I tried to give him comfort that his house was never at risk.
"I think I said at the time that he would not go to prison. He was on the radar of the Revenue, it was not a big case."
He said Bird did not appear to be listening throughout the meeting at his office and was "anxious" when he left.
Another meeting was later set up between the men and solicitor Kevin Commons - one of Bird's victims - who initially referred him to Mr Ellwood.
It was due to take place at Mr Commons's offices in Workington on the day of the shootings.
Later Det Con Catherine Rogerson, financial investigator for Cumbria Police, said that Bird had not lived beyond his means and led a moderate lifestyle.
She said: "I can conclude that he appeared to have no money worries and was financially secure."
At the time of his death, Bird had a total of £51,872.25 in two savings accounts and £1,300 in his current account. Police also found £2,743.96 in cash at his house in Rowrah, £880 in travellers' cheques and 105 euro. He possessed £8,000-worth of Premium Bonds.
A tax investigation by HMRC began in February last year with the delivery of a random working tax credit query, one of thousands of forms sent out by the organisation every year.
The matter was closed without any further action, but it triggered a self-assessment tax return investigation, which was still open at the time of Bird's death.
Mr Ellwood said he had not met Bird before a meeting on 21 May last year, but had been introduced by his friend Mr Commons as a client who had tax problems.
He told the inquest: "Kevin thought Derrick was anxious. He thought it best if we have a meeting with him to put him at ease."
The inquest was told Bird thought the meeting with Mr Ellwood was being taped. But Mr Ellwood said meetings were never recorded.
The hearing, at the Energus Centre, in Workington, is expected to last up to six weeks.