Mothers-to-be flock to new Kent maternity unit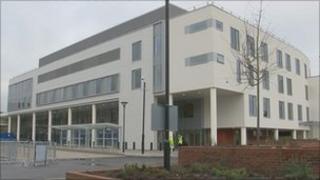 A new maternity unit in Kent has had "unprecedented interest" from women who want to give birth there.
Pembury Hospital is asking women not to make the unit their first choice until it fully opens in September.
Maidstone and Tunbridge Wells NHS said: "We will inevitably have to disappoint some women who were originally booked in at other hospitals."
The trust was responding to a Sussex man who complained his fiance was told to go to Eastbourne instead of Pembury.
'No available beds'
Michael Caston said his fiance, Alison Day, who had first gone to the Crowborough birthing centre, was told there were no available beds at Pembury and was sent to Eastbourne Hospital.
Gillian Duffey from the Maidstone and Tunbridge Wells NHS Trust, said: "We are working with East Sussex NHS Trust, which runs Crowborough Birthing Centre and oversaw Alison's care, to help better understand what happened and why.
" [We] would like to apologise for the poor impression they were left with.
"We can confirm that the maternity unit at Pembury was full when a transfer was requested.
Mrs Duffey added: "It is normal practice for Crowborough birthing centre to transfer women to both Eastbourne Hospital and the new hospital at Pembury."
The Pembury maternity unit opened in January after protests about changes to maternity services in Maidstone and Tunbridge Wells.
More than 20,000 people signed a petition to keep full maternity services at Maidstone Hospital.