Dead swan in West Oxfordshire is upsetting residents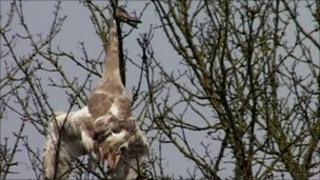 A dead swan that has been hanging from a tree in West Oxfordshire for more than three months has been upsetting some nearby residents.
Tad Tyson, who fed it when it nested near his boat said: "You'd have thought something would be done about it."
The independent councillor Charles Cottrell-Dormer confirmed that West Oxfordshire District Council would be sending someone down to take a look.
But added: "What a fuss about nothing, it is dead so not suffering."
Another canal boat resident, Pat Bradshaw, said the cygnet had got trapped in a branch at Bunkers Hill, near Kidlington, while learning to fly.
He said: "It's not a nice thing seeing a cygnet hanging from the tree... what I'd like to see now is it to be removed."