Crawley Town fan sentenced for mocking Munich air crash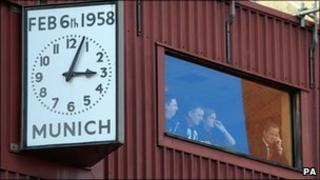 A Crawley Town football fan has been given a suspended jail term after he pleaded guilty to mocking victims of the Munich air crash in a music video.
James Butler, 19, from the Sussex town, was charged with using threatening, abusive or insulting words with intent to cause harassment alarm or distress.
He appeared before Crawley magistrates, where he was sentenced to eight weeks in prison, suspended for 12 months.
Butler was also told to pay £85 costs and given a 12-month supervision order.
Sentencing him, chair of the bench Rosemary Scott said he had offended wide sections of the footballing community.
"This was a deliberate and planned action targeted at a wider audience and considered grossly offensive to both Manchester United FC and Crawley Town FC and the public in general," she said.
The video was posted on the internet ahead of the FA Cup clash between Crawley Town and Manchester United.
Aircraft gestures
The Munich air crash happened in February 1958 when United were returning from a European Cup tie against Red Star Belgrade.
Their plane crashed on a runway after a stop-off at the West German city's airport.
The crash left 23 people dead, including eight United players.
The music video to mark the FA Cup match was filmed at the non-league club's ground last month ahead of the match on 19 February.
It was a reworking of The Specials' hit, A Message To You, Rudy, adapted by musician Mike Dobie with the new title A Message To You, Rooney.
Apology for behaviour
Club officials failed to realise that in the background Butler was dancing by the stage making aircraft gestures.
In the video, he also held his fingers up to show one, nine, five and eight to symbolise the year of the air crash.
Butler, of Beeches Crescent, was arrested after a Manchester United fan complained.
Jeremy Boots, defending, said Butler was remorseful and had asked for full credit to be given for his early guilty plea.
"He wants to apologise to the court for his behaviour," he said.
Magistrates were told that police would apply separately for Butler to be handed a football banning order.
The video was posted on YouTube and Crawley Town's official website.
United went on to win the game 1-0.